Small Works Exhibit Sale - November 28, 2015 - February 15, 2016 (shop partial exhibit below)
Especially for the Holiday Season, our Small Works exhibit features an eclectic selection of 80+ works sized 14" or smaller by twenty-one regional photographers. All framed and unframed works are perfect, unique gifts for the special people on your Holiday list.
Photographers include:
Patricia Beary, Karen Bell, Karen Celella, Carolyn Conrad, Tom D'Emic, Susan Dooley, Rich Faron, Scott Farrell, Alex Ferrone, Ray Germann, Gerry Giliberti, Nijole Kudirka, Jacques LeBlanc, Katherine Liepe-Levinson, Mike McLaughlin, Bruce Milne, Chris Randall, Jim Sabiston, Jeff Schultz, Jim Slezak, and Mary Trentalange.
All works are available for purchase; please contact the Gallery 631-734-8545. Free local delivery. Shipping available.
Below are two works by each of the twenty-one participating Small Works photographers. Please visit the Gallery to see additional works.
There are two separate galleries here. Click thumbnail to view full image.

Gallery One:
Charity Drive: The Gallery is also collecting personal care products for families in need through CAST Southold Town. Items needed: soap, shampoo, conditioner, toothpaste, shaving products, toothbrushes, moisturizer, facial products, etc.
Generously sponsored by Abatelli Realty of Cutchogue.
Opening Reception: Saturday, November 28
We celebrated the opening of the Holiday Season with our wonderfully attended reception for "Small Works 2015." We thank everyone who attended the Collector's Preview and the Exhibit to meet the artists and see their new works. Here are some photos from the evening - big thanks to our reception photographer, Jim Sabiston. Opening reception sponsored by Osprey's Dominion Vineyards in Peconic.
Karen Bell discussing works
Alison and Aaron at the Collectors Preview
Small Works Wine Sponsor Osprey's Dominion Vineyards
Best Bartenders Janet and Richard
Sue Dooley discussing works with guest, John Iversen
Guest, Richard Pruss at the Collectors Preview
Guest, Nancy Sabiston enjoying the Collector's Preview
Guest, Alison Delaney drawn to Karen Bell's work
Guest, Jim Dooley viewing works
Bruce Milne with WLNG's Debbie Tuma
Guests at Collectors Preview: Robyn & Walter Krupski, Stephen Krupski, Anne & Ted Swanson
Guest, Jean Schweibish investigating the works
More mingling in the grey gallery
Guests in the grey gallery
Guest, Millie Tufano admiring Jim Sabiston's work
Guests in the white gallery
Guest admiring works by Scott Farrell
Guests mingling in the grey gallery
Guests admiring works in the grey gallery. Millie & Emilia Tufano
Guests, Alison Delaney & Aaron Bokros at the Collectors Preview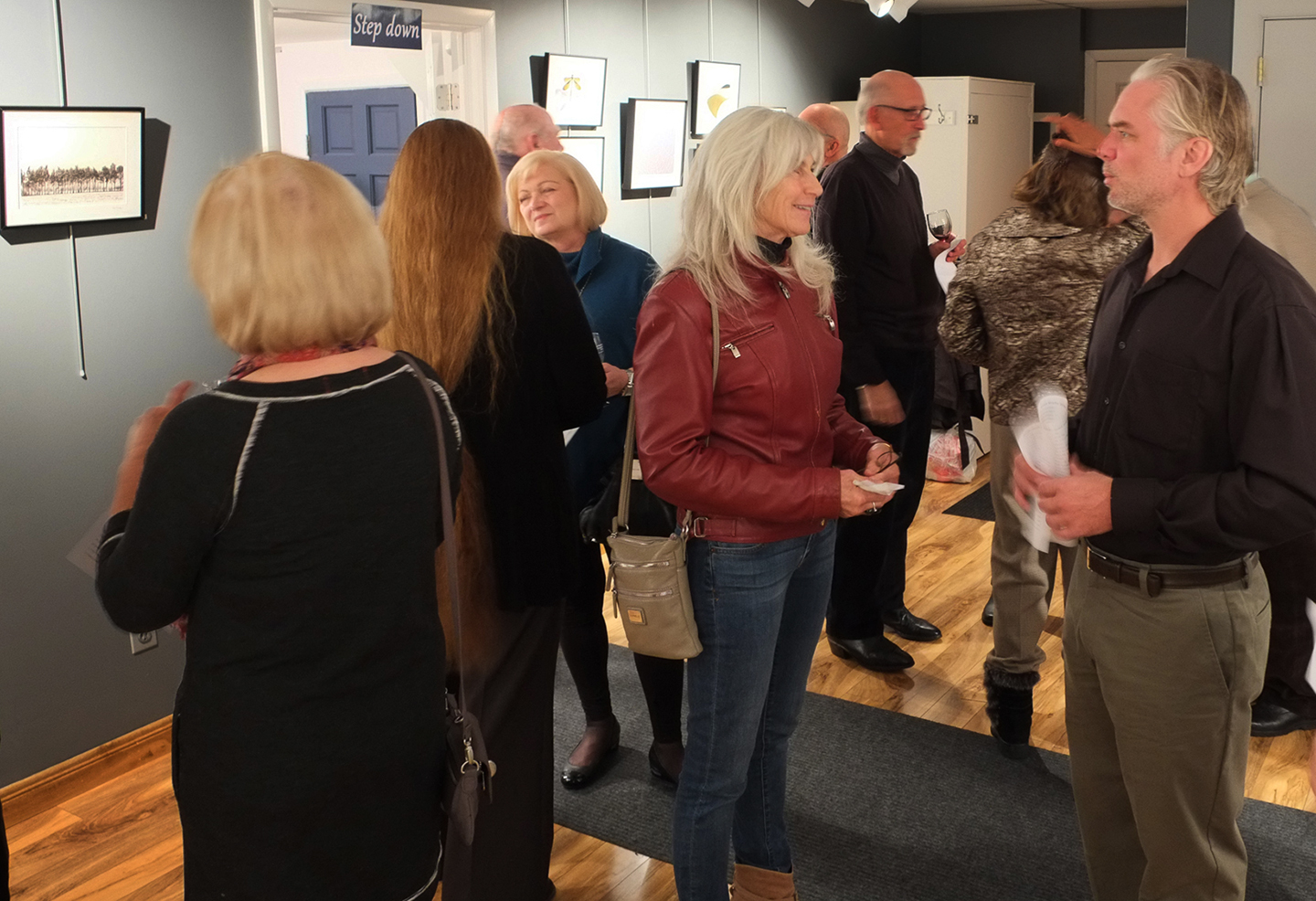 Guests enjoying the exhibit
Susan Dooley with admiring guests
In the grey gallery: Karen Celella, Janet Glazer, Ray Germann
Enjoying the great turnout