The Circle - National Juried Small Works Exhibition 2016
* View exhibit works and reception photos below. *
November 26, 2016 - February 12, 2017
Juror: Art critic, Charles A. Riley II, PhD.
Opening reception: Saturday, November 26 from 6-8pm
About the Exhibition:
The Circle - Small Works Exhibit 2016 features fifty photographic works by thirty-one artists that depict how the circle plays an integral role in composition, form, design, and/or subject matter of the image. All works are framed 14 inches or smaller and are available for purchase.
About the Juror: Charles A. Riley II, PhD is an art critic, curator, professor and author who has published thirty-one books on art, cultural history and media. His works include The Jazz Age in France, The Saints of Modern Art, Color Codes, and The Arts in the World Economy, as well as monographs on artists including Arthur Carter and Roy Lichtenstein among others. His articles have appeared in Art & Auction, Art & Antiques, Antiques and Fine Art, and many other international magazines. Dr. Riley has curated international museum and gallery exhibitions in Taiwan, Holland, Germany, as well as New York. Formerly the editor of Art & Auction magazine, he was also on the editorial staff of Fortune magazine and currently reviews for Hamptons Art Hub and other publications. Dr. Riley earned his BA summa cum laude at Princeton University and his MPhil and PhD at the Graduate Center of the City University of New York. Click to read the Juror's Statement about the exhibit.
Exhibiting artists:
Philip Augustin, Patricia Beary, Karen Bell, David Blow, Sandra Carrion, Brittany Comunale, Carolyn Conrad, Susan Dooley, Rich Faron, Richard Gardner, Sally Gelling, Gerry Giliberti, Julia Guzzio, Qin Han, Ellen Hansen, Erin Karp, Jacques LeBlanc, Joel Lefkowitz, Katherine Liepe-Levinson, Paul Malinowski, Nate Mathews, Juliet Mattila, Mike McLaughlin, Marco Pinter, Sara Poer, Jim Sabiston, Sarah Jaffe Turnbull, Pamela Waldroup, Laura Warren, and Lois Youmans.

All works in this exhibit are for sale. Physical works do not contain artist credit line.
Works are framed using white frames. Info shown is framed.
We offer complimentary boxed gift wrapping and Free North Fork delivery.
Shipping is available.
There are two image galleries below. Click thumbnail to view full image; scroll over image for piece info and pricing.
Gallery 1 of 2
Juror's Awards
Grand Prize: "Three Graces" by Carolyn Conrad: Olympus OM-D E-M10 Camera sponsored by Berger Bros. Camera in Syosset and Huntington, New York.
First Place: "Worlds Collide" by Patricia Beary: One 16" x 20" Vibrachrome Print (dye-sublimation metal print including aluminum track - a $235 value) from Duggal Visual Solutions in New York.
Second Place: "Tendril" by Lois Youmans: $100 Gift Certificate for Abbot Art Framing and Giclée Services in Farmingdale, New York.
Honorable Mention: "Flying Eggplant #5a" by Richard Gardner: $50 Gift Certificate for Berger Bros. Camera in Syosset and Huntington, NY sponsored by Abatelli Realty of Cutchogue, NY.
Juror's Mention:
"Negative 16-020-01 from Vanishing Point Series" by Philip Augustin
"California Pods" by Sandra Carrion
"Meridians" by Jim Sabiston
"Blue Ice" by Sarah Jaffe Turnbull
"Vatican Circles" by Laura Warren
Charity Drive: The Gallery is also collecting personal care products for families in need through CAST Southold Town. Items needed: soap, shampoo, conditioner, toothpaste, shaving products, toothbrushes and dental care products, moisturizer, facial products, etc. We thank you for your generosity!
We thank Pamela Waldroup for the following reception photos, and also thank Clovis Point Vineyard for the Holiday cheer!
Award winners Patricia Beary and Lois Youmans with their works
Guest enjoying Lois Youman's work
Director, Alex Ferrone chatting with Patrons
First Place Prize winner Patricia Beary with her work, Worlds Collide
Honorable Mention winner Richard Gardner with his work Flying Eggplant 5A
Juror, Charles Riley presenting awards
Charles Riley engaging the crowd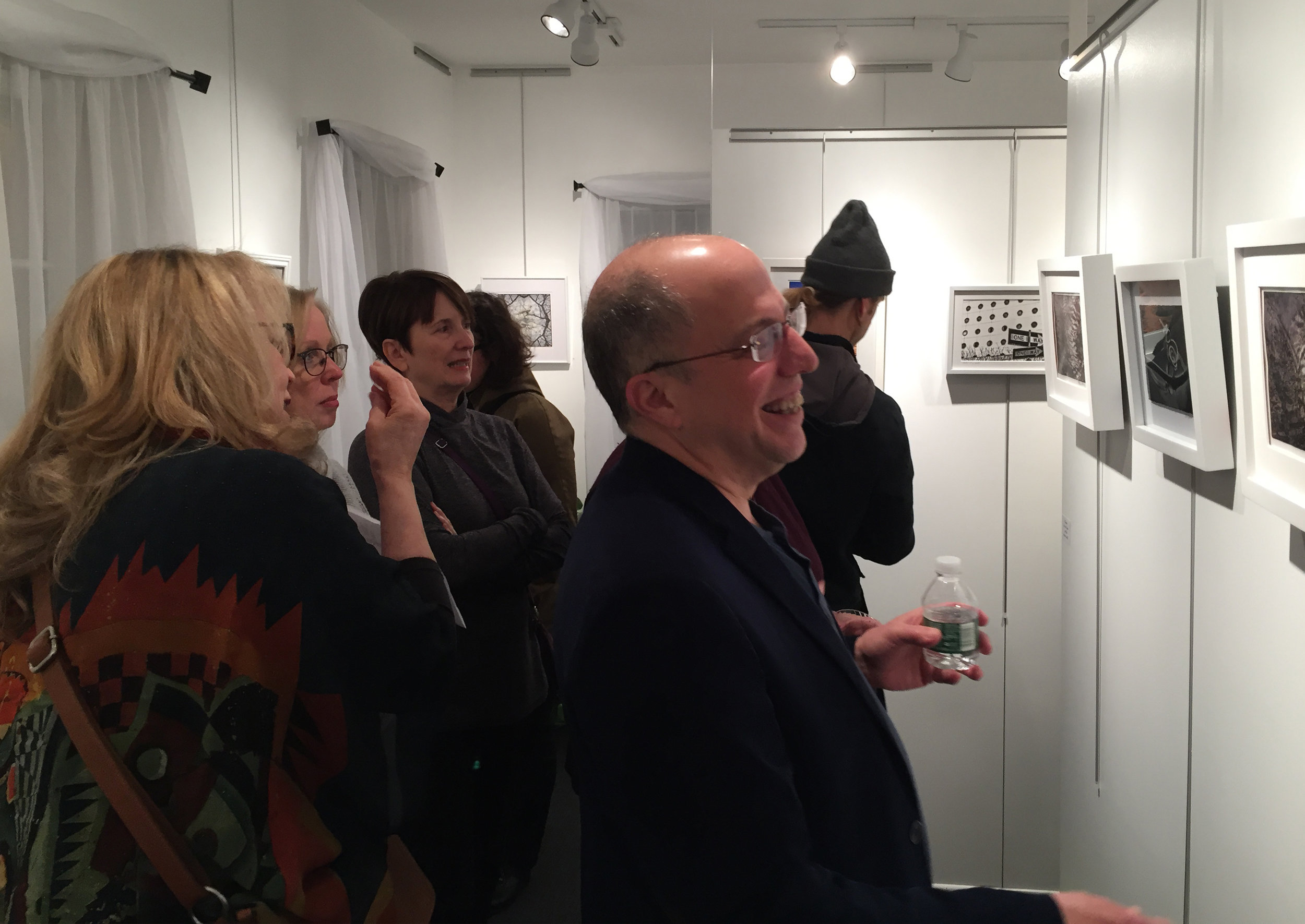 Guests discussing the works
Pamela Waldroup with her works
Guests milling about the exhibit
Sandra Carrion with her work, Butterfly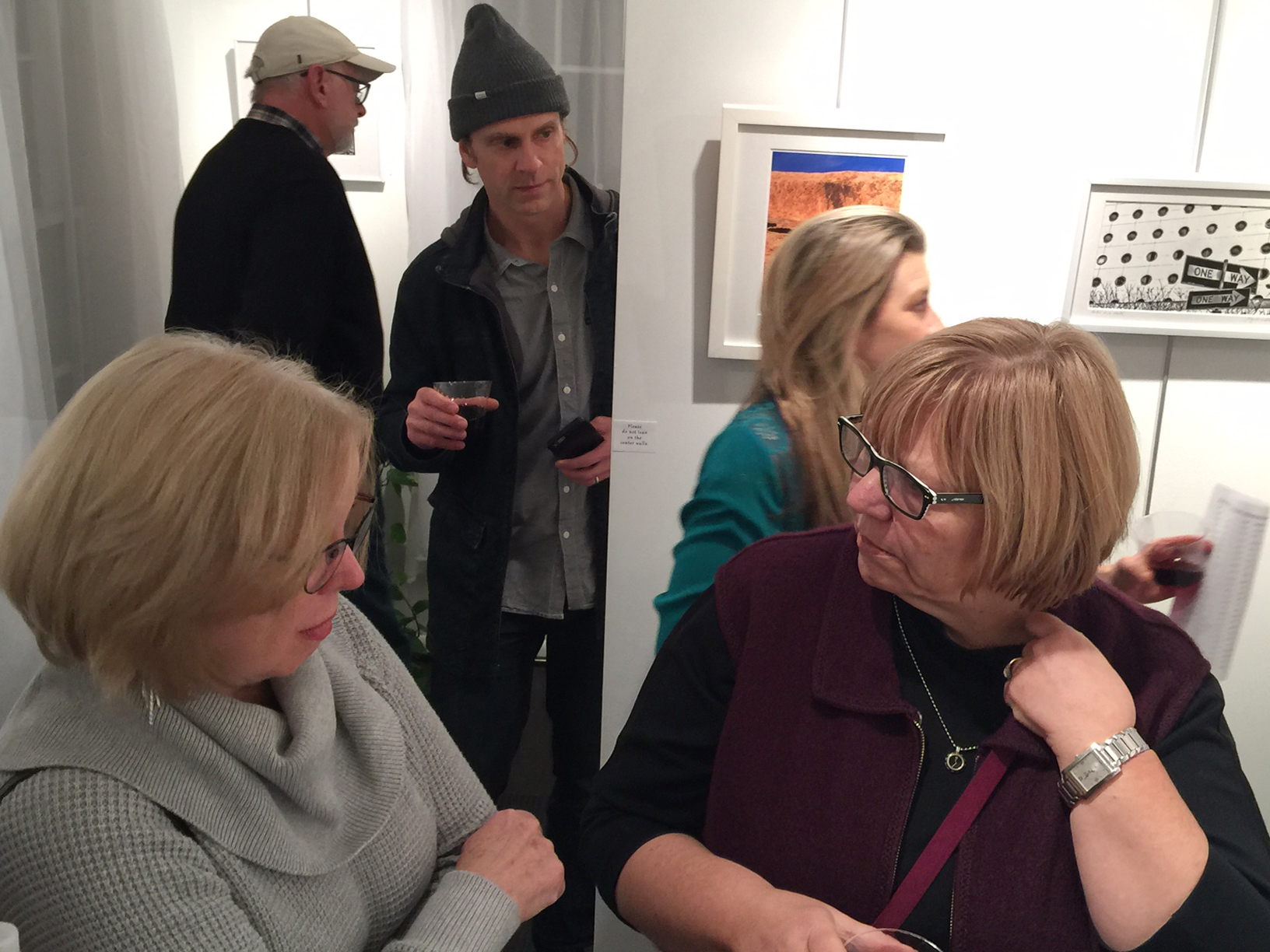 Artists in deep discussion
Second Place Prize winner Lois Youmans with her work Tendril
Milling about the exhibit 2
Milling about the reception
Patricia Beary and Lou Tasciotti
Patrons enjoying conversation